WooCommerce Email Inquiry Ultimate
WooCommerce Email Inquiry Ultimate
Use Gravity Forms to create custom Contact Forms

Use Contact Form 7 to create custom Contact Forms.

Create a Global Email Inquiry form that applies to all products.

Create unique forms and add to any product.

Open the form by Ajax on page (we use that here for pre-sales questions)
The Ultimate Product Inquiry Form
To be build the Ultimate WooCommerce Product Email Inquiry form we have developed an automatic 100% integration with the 2 leading Email Contact form WordPress plugins in the world.
Gravity Forms Premium Plugin Integration
When you install WooCommerce Email Inquiry Ultimate and have the Gravity Forms plugin it automatically adds a new Email Inquiry Field to the Default Gravity Forms 'Fields' that are used to created contact forms. Add the Product Name and Product URL fields into the form you create and the function that our plugin adds lets the Gravity Form find the Product name and post URL that the inquiry is being submitted from. It auto includes this in the email.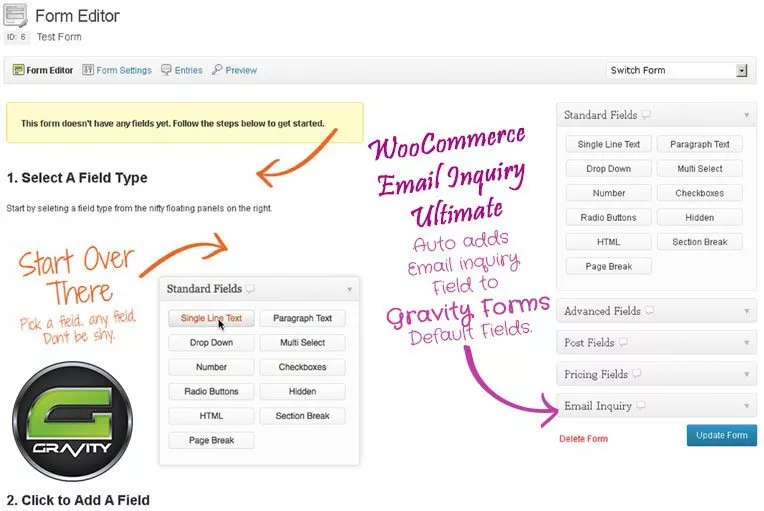 Contact Form 7 Plugin Integration
We understand that not everyone has a Premium Gravity Forms plugin annual subscription so we also built the integration function for the #1 Free open source Contact Form in the world, Contact Form 7. This plugin has over 11 million downloads. When you install WooCommerce Email Inquiry Ultimate and you have the Contact form 7 plugin installed, our plugin auto adds 2 new Tags to that plugins default tag list.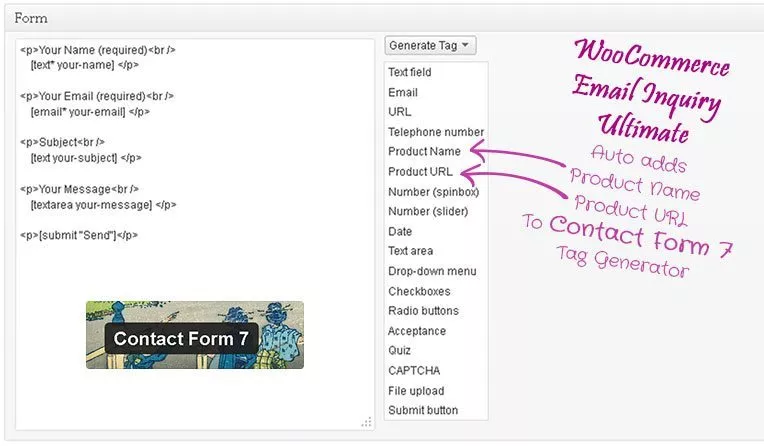 Adding a Global Product Inquiry Form.
Adding a global Product Inquiry form that shows for all products is as simple as:
Create the form

Add the global shortcode on the admin panel.

Select the form 'Open' options – On Page | New Page

Save Changes.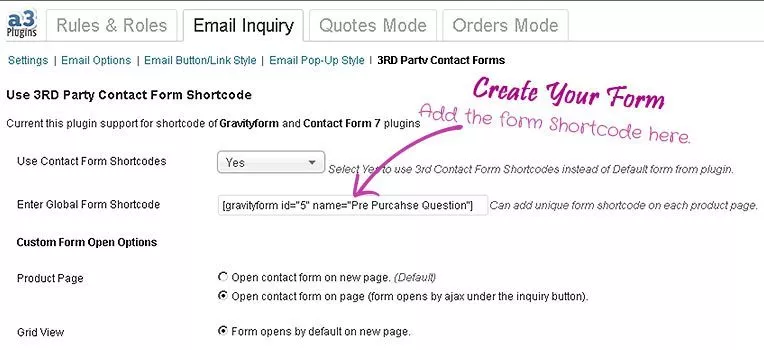 Individual Product Inquiry Forms
To add a unique Inquiry Form to any Product
Create the form

Edit the the product

Replace the Global shortcode with the new form shortcode in the Email & Cart Meta

Update the post.

Other Contact Plugin Integration
We have been able to develop a function that integrates the #1 Free contact plugin and the #1 Premium contact plugin in the world. Can we do this for other contact plugins? We don't know? If you use another email contact plugin we are willing to look at it if:
It is widely used

It adds contact forms via shortcode.
If you use a Email Contact form that meets both those critera and would like to see if we can build a function to integrate it with WooCommerce Email Inquiry Ultimate please use the Ask a Question function at the top of the page to 'Ask the Question'.
Quick Info
| | |
| --- | --- |
| Requires | WordPress 5.6 or higher |
| Tested up to | WordPress 6.0.0 |
| Requires | WooCommerce 6.0 or higher |
| Tested up to | WooCommerce 6.5.1 |
| Minimum PHP version | 7.4.0 |
| Current Version | 2.10.2 |
| Last Update | 2022/04/07 |
| First Released | 2013/06/21 |
| 100% WPML Compatible | yes |
| Translation ready | yes |
| Languages | English |
| Changelog | Open |
| Documentation | View |
| Support Forum | Visit |
Only logged in customers who have purchased this product may leave a review.