WooCommerce Product Sort and Display Premium
WooCommerce Product Sort and Display Premium gives you super shopkeeper powers to take control of your WooCommerce Shop page random product display and your Product Categories and Product Tags pages product displays.
Try it for Free
Use for 14 Day's Completely free

Free upgrades for the trail period

Easy 1 click Trial cancel
Includes all a3rev premium plugins and themes

Full support for the trail period
WooCommerce Shop Page Product Display
The FREE version of WooCommerce Product Sort and Display is fully featured if all you want to do is sort the display of products on your sites shop page. It has many features and rather than fill this page with them you can read about those and download FREE version plugin here on the plugins wordpress.org listing page.
We suggest that if you are not already using the FREE version you should do so – if you are just wanting sort and display for your shop page then you do not need this Premium Version.
The Premium Version has ALL of the features of the Free version plus these advanced features
Premium Version Features
This premium version is for WooCommerce store owners who want to take control of product placement on Product categories and sub categories sections of their store. The Premium version shopkeeper super powers gives you the same ability that a bricks and mortar retailer has in deciding which products or group of products a customer sees first when they enter their store and browse their offering.
Intelligent Product Category Display.
This plugin totally revolutionizes the way Product categories are displayed – especially Parent / Child categories. Features:
Show Parent Category with Products and next level Child Cats with Products on the same page.

Set the number of parent cat Product to show on first load.

Intelligent navigation always shows users where they are and what they are viewing.

Set number of Child cats to show under Parent Products when page first loads

Set number of products to show per child cat.

Parent child display works to any depth of navigation.

New sort features 'On Sale' and 'Featured' apply to parent and child cats.

2 All New Product Sort Features
WooCommerce Product Sort and Display Premium plugin adds the 2 new sort functions that are applied to the shop page in the FREE version to the entire store. Those 2 new custom features are
Sort by On Sale: Show first

Sort by Featured: Show first.
Features:
Ensure your customers always see your 'On-Sale' and Featured items as the first products displayed in any category.

Auto show products with 'Sale Price' first in Shop page and Category Pages.

Full integration with 'Sale Price Scheduling'

Full integration with Variation products that have 'Sale Price'

Auto show Products that are WooCommerce Featured Products first in Shop page and category pages.

Full integration with WooCommerce Product Sort

Configure to show on Shop page or Category pages or both.

Set on a category by category basis

Any On Sale or Featured products will show first in any category followed by the rest of the products in recently published order (WooCommerce default sort)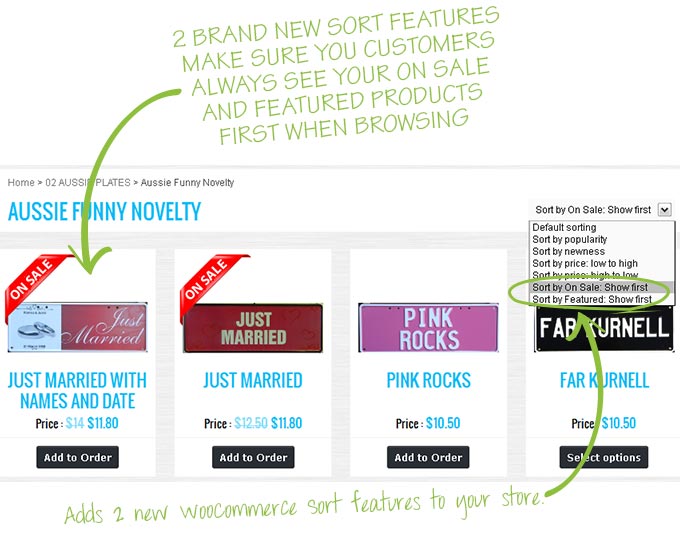 Endless Scroll Feature Included.
Enhance your users interface with your WooCommerce Store by activating the built in Endless Scroll feature if your theme does not already provide that. Choice of Auto Endless Scroll or Scroll on click.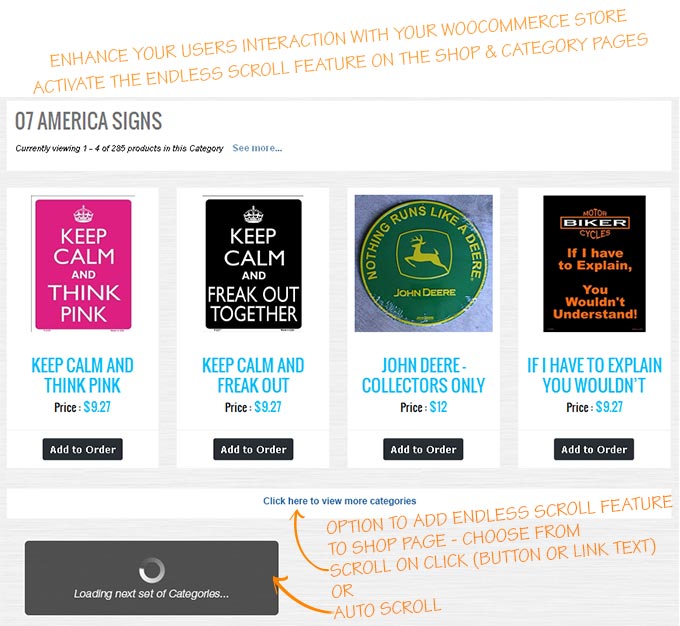 Theme Compatibility
This plugin can apply its magic on the Default WordPress Twenty Ten and Twenty Eleven Theme – all WooThemes and any theme that is created following the WordPress and WooCommerce Theme developers Codex.
If a Bespoke theme does not follow the WooCommerce Theme Developer Codex (which they should have if they are claiming their theme is WooCommerce ready) then you may have problems as the plugins functions rely on the functions set out in the Codex being present in the theme. if they are not then the plugin cannot work correctly – if at all.
Annual Subscription License
This plugin is open source and there is no limit to the number of sites it can be activated on.

The annual subscription fee is for 12 months of Maintenance Updates and Feature Upgrades, which during the course of a year there are plenty – see the changelog for a record and frequency of new versions.
The subscription fee also gives you access to support from us – the developers via the Plugins a3rev support forum. Take a look at the forum – it is where you can ask questions, report bugs and make feature suggestions as a active subscription owner.

Subscriptions can be upgraded, downgraded and cancelled from your a3rev customer dashboard.
Note! Subscriptions can be cancelled from customer account console at any time. Cancelling a subscription cancels the auto renewal but does not void the auto updates and support for the balance of time left before the subscription expires.
BUY NOW
Use on up to 5 sites
Entirely Free For 14 Days
Then $24.99 / month
No extra charges, no lock in contracts, easy 1 click cancel anytime
Introductory Offer!
$200 sign up fee waived for the life of the subscription
START YOUR 14 DAY FREE TRIAL NOW
Unlimited Sites
Entirely Free For 14 Days
Then $49.99 / month
No extra charges, no lock in contracts, easy 1 click cancel anytime
Introductory Offer!
$200 sign up fee waived for the life of the subscription
START YOUR 14 DAY FREE TRIAL NOW
Quick Info
| | |
| --- | --- |
| Requires | WordPress 5.6 or higher |
| Tested up to | WordPress 6.0.0 |
| Requires | WooCommerce 6.0 or higher |
| Tested up to | WooCommerce 6.5.1 |
| Minimum PHP version | 7.4.0 |
| Current Version | 2.2.0 |
| Last Update | 2022/05/24 |
| First Released | 2013/07/23 |
| 100% WPML Compatible | yes |
| Translation ready | yes |
| Languages | English |
| Changelog | Open |
Only logged in customers who have purchased this product may leave a review.
Related products
0 No Rating Yet

Predictive Search WooCommerce addon extends Predictive Search functionality for WooCommerce stores. Adds Search by options: Product Name or Part Names Product SKU Product Variation SKU Product Categories Product Tags Custom Focus keywords

Rated 4.56 out of 5

WooCommerce Dynamic Gallery Premium creates a dynamic sliding gallery of product images as well as the ability to create a gallery of images for each variation. Show you thumbnails in an attractive and simple to sue thumbnail slider. Customize the whole look and feel of the gallery from the plugins admin dashboard - no coding required.