WooCommerce Dynamic Gallery Premium
WooCommerce Dynamic Gallery Premium creates a dynamic sliding gallery of product images as well as the ability to create a gallery of images for each variation.
Show you thumbnails in an attractive and simple to sue thumbnail slider.
Customize the whole look and feel of the gallery from the plugins admin dashboard – no coding required.
Try WooCommerce Dynamic Gallery Premium for FREE
Use for 14 Day's Completely free

Full support for the trail period

Free upgrades for the trail period

Easy 1 click cancel
Includes all a3rev premium plugins and themes

Download and Install a3rev Dashboard

Activate WooCommerce Dynamic Gallery Premium from the dashboard
Select Membership Level
WooCommerce Dynamic Gallery Premium Main Features
Featuring Product Variation Image Galleries
Easy Slider style customization (no coding required)
Elementor Premium Templates Full Compatibility
Turn OFF Gallery on any Product (use Default Gallery)
Full Integration with WooCommerce
Easy Thumbnail Gallery customization (no coding required)
Add a Product Dynamic Gallery By Widget or Shortcode
Add Dynamic Gallery to Product Page Template with Widget or shortcode
WooCommerce Dynamic Product image Gallery brings your product pages and presentation alive. Beautifully with great flexibility.
WooCommerce Dynamic Gallery Premium Features
Just install and activate the gallery and it automatically adds the Dynamic gallery to every single product page on you site with these features:

Upgraded and tested 100% Compatible with WooCommerce Version 2.5+ and backwards to Version 2.1

Gallery supports show Variation images. When user selects an option on product page – that options image auto shows in the gallery.

Fully Responsive or use as fixed pixel wide on any theme

Gallery image manager greatly simplifies the management of product and variation images.

Search Engine Friendly Images.
Theme, Framework and Page Builder Compatible
WooCommerce Dynamic Gallery Premium works with any theme, framework or page builder that supports the WooCommerce Default Product Gallery on the Products pages (template). However not all of them do. If they don't but allow add the Product Gallery by Widget or shortcode them it is easy to add dynamic Gallery. Below is a list of a few we know of:
Elementor Premium – Product Template. Add by Widget – easy
Divi Theme – Automatic
Avada Theme – Automatic
WooCommerce Storefront Theme – Automatic
If you are using a Theme, Framework or Page Builder that don't allow you to swap out or add a new Product Gallery don't worry we will add it for you. Doing that is included in the subscription fee.
Show Options (Variations) Images in Gallery
WooCommerce Dynamic Gallery is already the most popular WooCommerce product image Gallery but it just went to a new level with the ability to use the Gallery to manage and show your WooCommerce product variation images like you never thought possible.
As the user selects options from the product page 'Choose an Option' Drop down the images you have assigned to that variation auto show in the Gallery.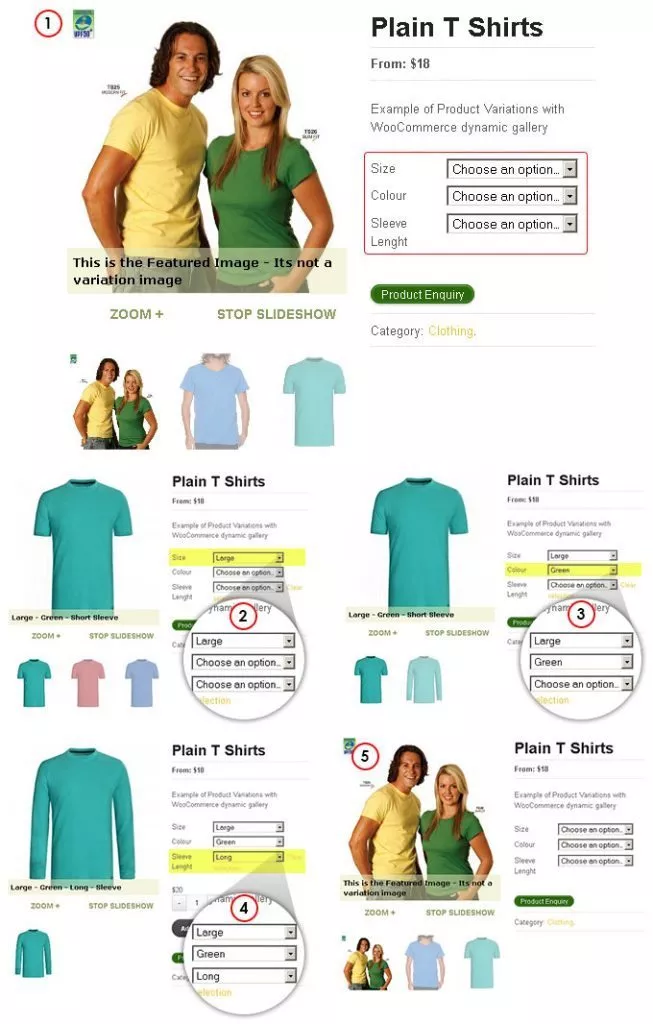 Image Legend
1. Gallery shows when the page loads – variations are set at Choose an option and the gallery loads the featured image first and shows all images in order.
2. User selects the Large option and all variation images for this product assigned to the large attribute show. The example you see on the demo there are 4 Colours – Black, Red, Green and Blue and large comes in Long Sleeve and Short Sleeve so the gallery will show all 4 colours in short sleeve and Long sleeve. A user can scroll through all the 'Large' T Shirt images.
3. Now the user refines their selection to 'Large ' Green' – there are only 2 images – 'Large Green Short Sleeve' and 'Large Green Long Sleeve.
4. Finally the user Selects 'Large Green Long Sleeve' and sees their selection in the gallery.
The images change in a 'blink of the eye' and it is very engaging.
Responsive Gallery.
The Gallery works beautifully on traditional fixed pixel width and height themes, but by changing one setting on the admin panel it is transformed into a fabulous responsive image gallery. Even the image Zoom pop ups display beautifully in even the smallest phone screens.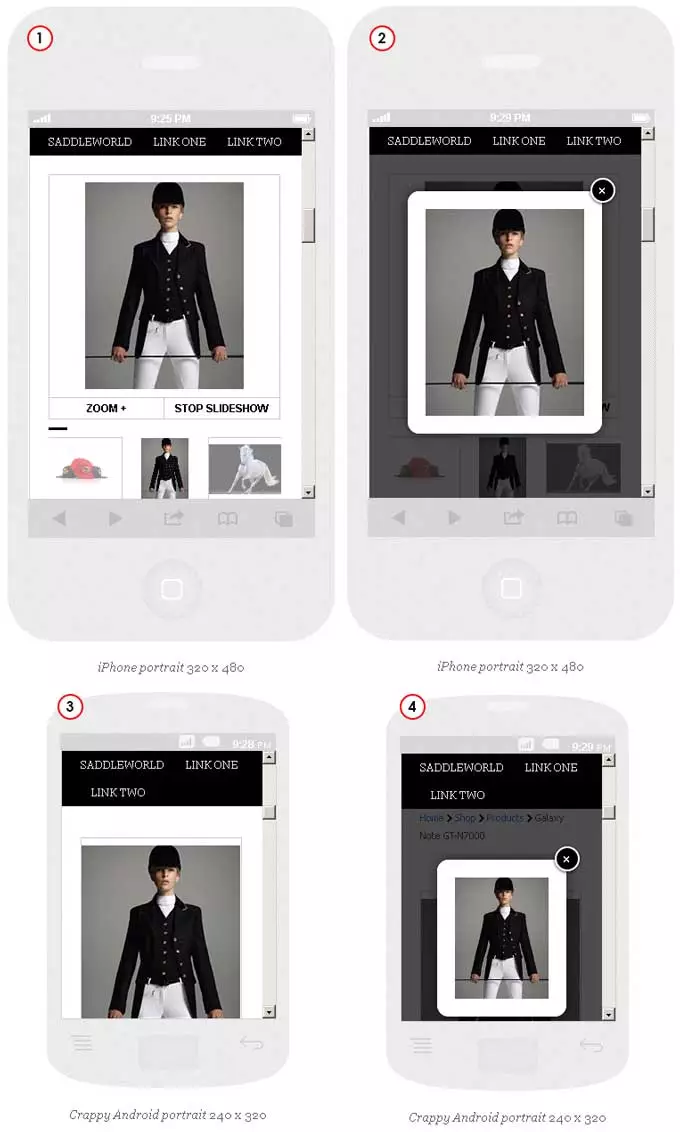 Deactivate / Activate Gallery on any Single Product Page.
When WooCommerce Dynamic Gallery is activated the Gallery is automatically added to every single product page. If you have products that only have a single product and you don't want the gallery, then just click the check box on the Gallery Images manager on the single product page to deactivate the gallery for that product.

25 Individual Gallery Settings
WooCommerce Dynamic Gallery gives you 25 different settings to customize how the gallery looks and Works on your site. From the WooCommerce > Settings > Dynamic Gallery tab you have total control over:
All these features combine to give you what simply an outstanding WooCommerce Dynamic Product Image gallery.
Quick Info
| | |
| --- | --- |
| Requires | WordPress 5.0 or higher |
| Tested up to | WordPress 5.8.2 |
| Requires | WooCommerce 5.0 or higher |
| Tested up to | WooCommerce 5.9 |
| Minimum PHP version | 7.4.0 |
| Current Version | 2.9.14 |
| Last Update | 2021/11/20 |
| First Released | 2012/07/14 |
| 100% WPML Compatible | yes |
| Translation ready | yes |
| Languages | English |
| | |
| Changelog | Open |
| Documentation | View |
| Support Forum | Visit |
Additional information
| | |
| --- | --- |
| Number of Sites | Single Site Subscription ($49), Up to 5 sites ($79), Up to 25 sites ($149), Up to 50 sites ($199) |
Only logged in customers who have purchased this product may leave a review.