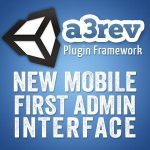 As mention in this post Building a WordPress Plugin Framework, last week we started the roll out the new Mobile First major upgrade to the a3 WordPress Plugin Framework that a3rev plugins are built on. So far we have upgraded the WooCommerce Product Sort and Display Pro, the WooCommerce Product Sort and Display  Free Lite Version, the Page View Count Free plugin, the a3 Lazy Load Free plugin, the WP Email Template Pro and WP Email Template Free Lite version plugins.
The WordPress Plugin Framework mobile first upgrade sees the launch of admin panels with opening and closing 'Setting Boxes' that we have developed. The new admin panel User Interface (UI) and User Experience (UX) is exclusive to a3rev plugins and makes navigating our plugins admin settings a very simple and enjoyable task. Each settings box as a Title that tells you what section of the settings you are wanting to edit. Just click or tap the box header and the settings you are wanting show.
Here is a video showing how it works in a PC – it is just as awesome in a mobile.
Comparison of old a3 WordPress Plugin Framework admin interface on the WP Email Template Plugin to the new mobile first admin interface after upgrading to version 1.5.0
WordPress Plugin Framework Roll-out
Over the coming weeks we will continue to convert all 51 plugins that we have built on the a3 WordPress Plugin Framework to the new mobile first upgrade. This is a very big task. We currently think that it will take 3 to 4 weeks to complete the upgrade. Right now we are working on converting the WordPress plugins, Contact Us Ultimate , Contact Us Page – Contact People Pro and the Contact Us Page – Contact People Free Lite version.
Editing From a Mobile Phone
The new WordPress Framework mobile first admin interface means that is you ever need to edit a plugins settings while you are on the move – doing it from any smart phone is a breeze.
Don't forget that you can always be the first to know about new Plugin releases, Feature upgrades and general WordPress related news by following us on
If you love your new a3rev plugins mobile first admin interface (as we do) please help spread the Word about it by using the Share: icons at the top of this page to share this post to your social media contacts. You can also write a review about it on the a3rev facebook page if you wish.