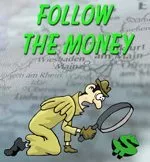 In business there is an old saying – 'where the people go, the money follows'. Business people today just can't afford to ignore social media. Take a look at the amazing social media widget below that shows you in real time how many people are joining, how they are communicating and how much money they are spending, right before your eyes.
Incredibly I still talk to business owners who believe that social media is a fad. Look at the stats below. They are real time, happening as you watch. What does every business need – customers / clients. Look at where the people are going, thousands of them every hour. Wondering if you should be using social media in your business marketing?
In answering that question I tell my business web design clients the same thing that "Deep Throat" told Robert Redford in the classic 1976 movie "All the Presidents Men" when advising him how to find who was responsible for "Watergate" .
You should "Follow the money!"
Business and Social Media
Talk to us today at A3 Revolution Web Design and Digital Solutions about how to make social media work for your business. Social media is revolutionizing the way people (customers / clients) communicate and gather information and news. Ask yourself, can my business realistically afford to ignore the worldwide social media phenomenon any longer? If the answer as it should be is no, then take the first step today by discussing your options with us.

END