WooCommerce Global Email Template
WooCommerce Global Email Template
As a WooCommerce site owner you already know what a wonderful business banding tool the built in WooCommerce store email template is.
Unfortunately unlit now there was no way to apply that beautiful email template branding to all the other email that was sent from your WordPress site to customers and potential customers.
Well now there is.
The WooCommerce Global Email Template allows you to apply the exact same branding as your WooCommerce template to all WordPress and WordPress plugins that generate emails to your clients and customers.
Just install it then visit the WordPress Settings > Email Template page and set the style of the template. You have 2 choices of settings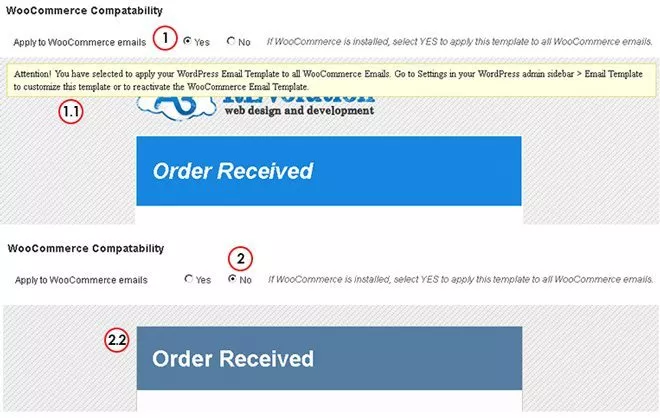 You can either choose to apply the Global template to all emails generated from your site including the WooCommerce store emails – or you can choose to continue to run the WooCommerce template and apply the Global template for all other emails.
More Settings
The WooCommerce Global Email Template has more settings than the WooCommerce Email Template which allows you to fine tune the style and content even more. See the plugins docs for a full description of the options.  In addition the Global template has these features:
Social media Icons
The template allows you to add links to your account on these social media channels with linked icons from the emails footer.
Facebook
Twitter
Linkedin
Pinterest
Google+1
Marketing and Promotion
The WordPress visual editor in the Footer editor allows you to get very creative in designing your email footer. Its can be an excellent marketing / promotion tool. Every email that goes out from your site can carry some additional promotion. For example if you purchase a plugin right now the email receipt you get will have a footer with a promotional message like this.

Plugins
WooCommerce Global Email Template works with every plugin we have tested it on. Click on the gallery to see larger images of each of the examples below of plugins we sue and how they look with the template.
* Gravity Forms – looks sensational with the default Gravity style.
* Contact Form 7 – see the screenshots
* WP Mail SMPT – WordPress Email Template does not interfere with the way any WordPress or any plugin handles email output – it just applies the template to any output content.
* BackupBuddy – I love it when even my admin emails are branded – see the screenshots
Documentation
WooCommerce Global Email Template is the same plugin as WordPress Email Template and requires no set up or configuration. As soon as you install and activate the plugin, it applies the default template to all of your emails. If you wish to add your own custom style then visit the plugins admin page and use the simple visual editor. See the plugins detailed documents on line at the a3rev wiki by clicking the Documentation button at the bottom.
Localization.
If you do a translation for your site please send it to us and we'll include it in the plugins language folder and credit you here with the translation and a link to your site. The Contact us form has a special section for submitting the .po and .mo files that you will find in the language file in the plugin.
Quick Info
Requires
WordPress 4.6 or higher
Compatible up to
WordPress 4.9.x
Requires
WooCommerce 3.0.0 or higher
Compatible up to
WooCommerce 3.2.x
Requires
Responsi 6.8.x
Compatible up to
Responsi 6.8.x
Requires
Responsi WooCommerce Templates
Compatible up to
Responsi WooCommerce Templates x.x.x
Minimum PHP version
x.x.x
Version
x.x.x
Released
2017-12-29
100% WPML Compatible
yes
Translation ready
yes
Languages
English
Support to

All Responsi plugins
All Responsi themes

Changelog
Open
Documentation
View
Support Forum
Visit
Only logged in customers who have purchased this product may leave a review.