WooCommerce Product Sort and Display Premium
WooCommerce Shop Page Product Display
The FREE version of WooCommerce Product Sort and Display is fully featured if all you want to do is sort the display of products on your sites shop page. It has many features and rather than fill this page with them you can read about those and download FREE version plugin here on the plugins wordpress.org listing page.
We suggest that if you are not already using the FREE version you should do so – if you are just wanting sort and display for your shop page then you do not need this Premium Version.
The Premium Version has ALL of the features of the Free version plus these advanced features
Premium Version Features
This premium version is for WooCommerce store owners who want to take control of product placement on Product categories and sub categories sections of their store. The Premium version shopkeeper super powers gives you the same ability that a bricks and mortar retailer has in deciding which products or group of products a customer sees first when they enter their store and browse their offering.
Intelligent Product Category Display.
This plugin totally revolutionizes the way Product categories are displayed – especially Parent / Child categories. Features:

All New Product Sort Features
WooCommerce Product Sort and Display Premium plugin adds the 2 new sort functions that are applied to the shop page in the FREE version to the entire store. Those 2 new custom features are
Features: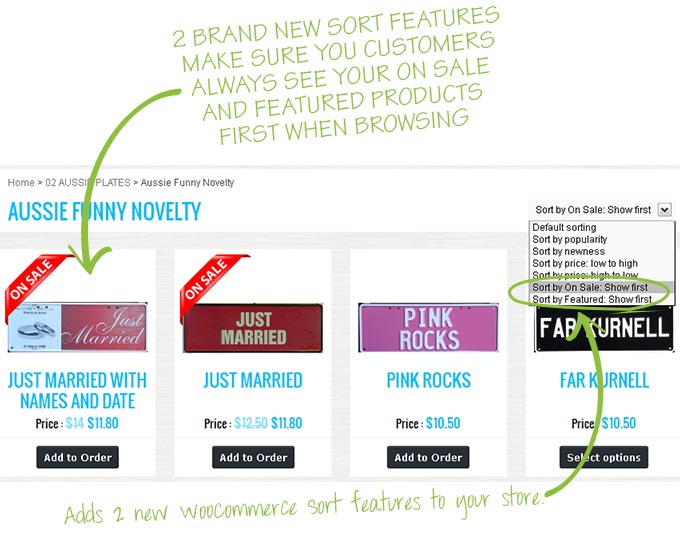 Endless Scroll Feature Included.
Enhance your users interface with your WooCommerce Store by activating the built in Endless Scroll feature if your theme does not already provide that. Choice of Auto Endless Scroll or Scroll on click.
Theme Compatibility
This plugin can apply its magic on the Default WordPress Twenty Ten and Twenty Eleven Theme – all WooThemes and any theme that is created following the WordPress and WooCommerce Theme developers Codex.
If a Bespoke theme does not follow the WooCommerce Theme Developer Codex (which they should have if they are claiming their theme is WooCommerce ready) then you may have problems as the plugins functions rely on the functions set out in the Codex being present in the theme. if they are not then the plugin cannot work correctly – if at all.
Annual Subscription License