a3 Portfolio Item Switcher
a3 Portfolio Item Switcher when installed allows your site visitors to easily scroll through all of your portfolio items right from the first item expander that they open.
When installed and activated the plugin adds a < Previous and Next > arrow icon to the left and right edges of the open expander.  When the user clicks on those arrows the next or previous item appears in the open expander. It makes it and very fast to switch from item to item without having to open and close the expander for each item.
The image below is from a client site – see how the < Previous and Next > icon arrows are added to the left and right of the open item expander. These icons and the container are Dynamic style which allows you to create a style that matches your theme.
With the Item switcher the user does not have to click on each item card to open the expander. Once 1 expander is open the user can scroll through the entire portfolio from the expander screen. It is a beautiful User Interface and user experience.
The best way to see that is check it out for yourself on this demo site.
Mobile Browser Interface
The a3 Portfolio Item Switcher contains its own unique mobile phone interface that features
Full screen width images

Previous and Next scroll arrows at the top of the browser

Previous and next touch swipe transitions.
Users can tap or swipe through the entire portfolio from any opened item expander. It is an app like experience and visually stunning.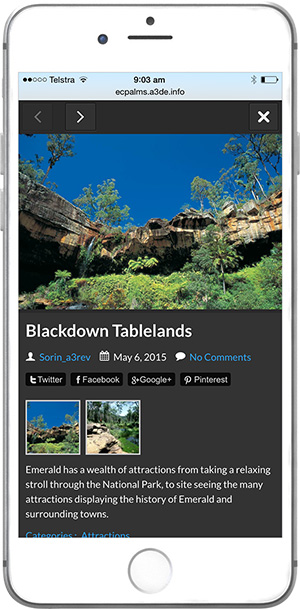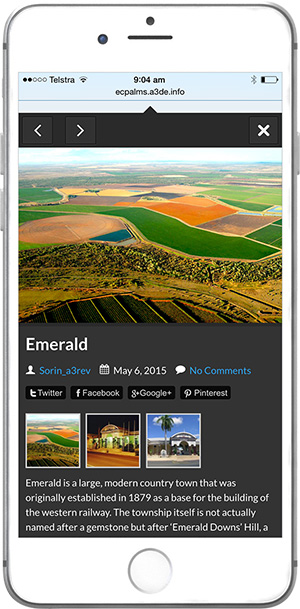 Full Shortcode Compatibility
The a3 Portfolio Item Switcher plugin is fully compatible with the a3 Portfolio Shortcodes plugin. Item Switching works with Item cards inserted as individual cards (more that 1), Portfolio Categories and Portfolio tags inserted by shortcode. You can see that in action here on the a3 Portfolio Shortcodes product page.