a3 Portfolio Dynamic Gallery will transform your static Item Expander Gallery and or Item post image gallery into a beautiful slider in PC, tablets and mobile devices.
Static to Dynamic Image Galleries

Install the a3 Portfolio Dynamic Gallery plugin and your static galleries will come to life on the Item Expander and the the item posts.
Don't rely on site visitors to click on a static thumbnail to see all of the images in your gallery.
Set Dynamic Gallery to auto / select a transition type and all of your images will slide through the Gallery while the Expander or post is open.
Watch the video we made to show you just how easy it is to add the Dynamic Gallery feature to your a3 portfolio to really showcase your images to your site visitors.
Installing Portfolio Dynamic Gallery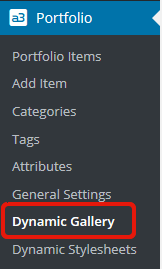 Once you have purchased the a3 Portfolio Dynamic Gallery log into your a3rev customer account and go to the 'Subscriptions' section of the dashboard.
There you will see the [Download Plugin] button and your License key. Copy the Key and Download the plugin and save it to a folder on your computer. Then install and activate a3 Portfolio Dynamic gallery plugin.
Don't forget to install the a3 License manager plugin and use your key to validate the install for automatic plugin maintenance updates and free upgrades as well as developer support.
Once the a3 Portfolio Dynamic gallery is activated you will see that the menu is added to the a3 Portfolio menus.