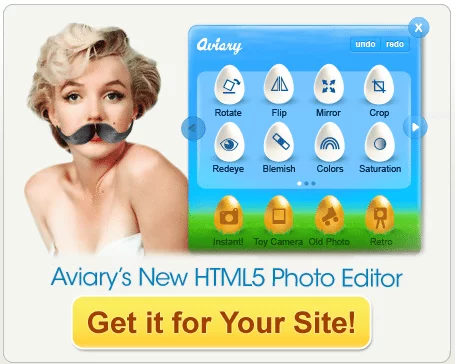 Wow – just found this amazing FREE image editing software program to create incredible images. A picture paints a thousand words – great images are so important in conveying a message on your website and in your printed material. Aviary Image editing software is so much more than an image editor, it is a complete suite of really powerful image, music, audio and effects creation tools.
Aviary has so many great features – not least of all are the video tutorials and help forums. Best of all its all online so that you can access it from anywhere you can connect to the internet. Looks brilliant. Here is one of the tutorial videos to give you an idea of what you can do with it.
The only other software I know of that comes close to this is Photoshop and it costs thousands of dollars to purchase.
Those of you who use Googles Chrome browser can now add it as an App to you browser. Just click on the new Web Store icon on your Chrome home page and download it from there.
Have fun with it.
If you found this post helpful please use the buttons below to share it with your friends. (Use the envelope to email it)
You can stay in touch with us on Twitter & Facebook.
END