What it does!
WPEC Wholesale Pricing allows you to manage WPEC Customer Wholesale Pricing, Views, Access. It gives WP eCommerce store owners ultimate control over what site visitors and logged in sites users can see and do on the site. Features
Set up User Roles: – Set User Permissions for each role:

Set site wide Wholesale User Discount prices for each Role:

Logged in users see the Retail Price crossed out – their Wholesale price plus the Dollar amount and percentage discount they get on that product.


Replace the 'Add to Cart', 'Buy Now' buttons with a Product Inquiry email form or a 'Text Linked' Button to another page on your site:

Allows the site owner to set any Product as a Brochure page with an email Inquiry form or have the Shopping Cart activated.


Set which page on your site Users land on when they log in.
WPEC Wholesale Pricing performs 5 different functions and is 'Install and Play' on any Theme. Using the single page user console to fine tune your settings is 'child's play' easy.
1. Set User Roles:
In addition to the default WordPress User Roles (Administrator, Editor, Contributor etc) you can set up as many additional Roles as you like. Call the new Roles whatever you like eg. Wholesale Customers, Dealer A, Dealer B, Star Customers and then firstly set any additional site accesses you want  that Role (and hence all Users you have assigned to that Role) to have when logged into your site. The default access settings are 'Read' and see and use the shopping cart.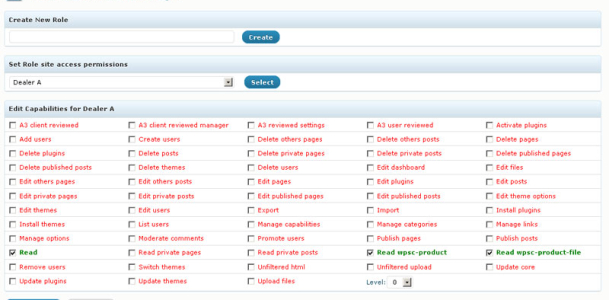 2. Set Discounts for each Role.
With WPEC Wholesale Pricing it is very simple to set and change Wholesale Discounts for each User Role, either % or $'s off each product. This setting means that all site visitors see your full price of each item, but if you have assigned them to a Role and set a discount for that Role, when they log in, each Product now has a slash through the price they saw as visitors, then under that   their new price and shows them their $ saving and % saving amounts. Excellent for Wholesale Customers or offering a class of Customer (Role) a special discount on everything in your store.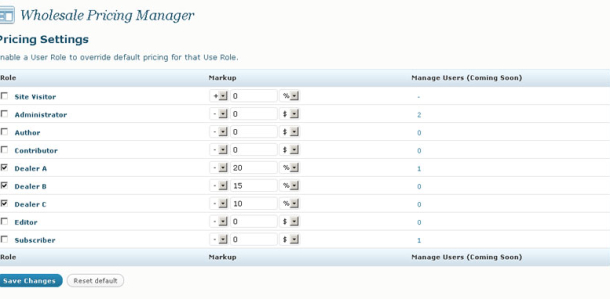 Once these are set below is what all users see on the front end. * Note in the example below the client has used feature number 4 to the Change add to Cart to a linked Button.
This is how that same product looks to a customer who has been set up with a 20% discount with the WPEC Wholesale pricing plugin. the user only see the discounted price when they are logged in. The user can only see their discount not any other users discounts. * Note please ignore the 'Save to Order' button. WPEC Wholesale pricing dose not add that 'Virtual Order Pad" feature. It is another plugin we have developed but not yet released for sale.
3. Replace "Add to Cart' Button with an Email Product Inquiry Form.
Easily replace the 'Add to Cart', 'Buy Now' Buttons (whichever one you have set in your WP eCommerce Store) with a Product Inquiry Email form on every product page. You can even over-ride this setting on individual products. Set your own form heading and the information that comes to you in the email (importantly the product that they are inquiring about). No need to install an email plugin as it uses the WordPress email system.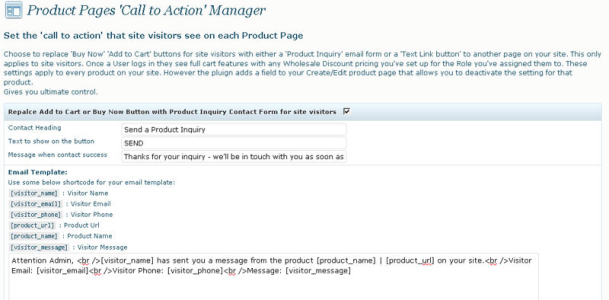 4. Change 'Add to Cart'  text and link to a common URL.
Choose to replace 'Add to Cart' Buy Now' with Button  that has your own text and Link to another page on your site or an external URL.

5. Set log in Landing Page
Set any page that you want users to land on when they log into your site i.e. Homepage, Their account page, Admin Page etc.

* If all you need is features 3,4 and 5 above they are available as a stand alone plugin here on the A3 Rev site – click here to see WPEC Product Email Inquiry plugin
WPEC Wholesale Pricing Compatibility
WP e-Commerce 3.7 up to the current version 3.8.8.5
WordPress up to 3.4.2
Developers Note: Your dev site (subdomain) do not count as a Domain – only the public domain.