WP e-Commerce Quick View Ultimate gives your customers a true supermarket shopping experience. In a supermarket shoppers browse products on the shelves, picking up the ones they are interested up, reading all the relevant information and either adding the item to their cart or putting it back on the shelf and continuing to browser. You can now give your customer exactly the same experience with Quick View Ultimate.
While browsing products anywhere in your store – shop page / category pages / tag pages they see a products that interests them – instead of clicking 'More Details' and going to another page to view all the product information and images they click Quick View and see it all in a pop-up right there on their screen. This is the sequence
See something of interest – Pick it up from the shelf (Open the product in the pop-up)

View all the products information and make a buying decision

Either add the item to the shopping basket (Add to Cart)

Or put the item back on the shelf and continue to browse (close the pop-up)
WP e-C0mmerce  Quick View Ultimate makes it incredibly quick, easy and convenient browsing and shopping for customers.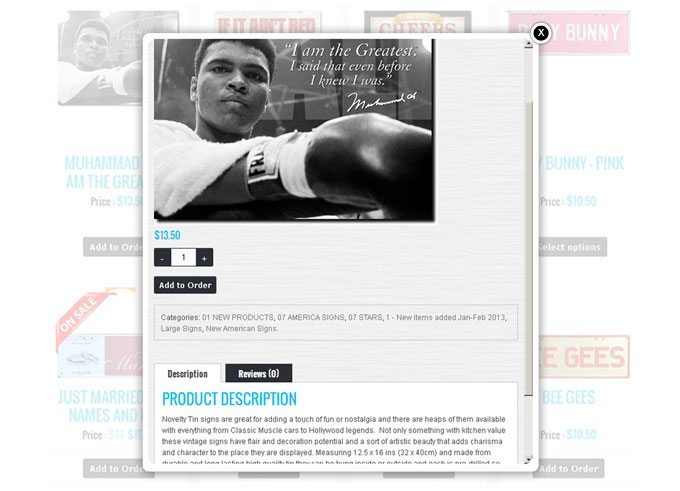 Chances are you are using it right now if you are on the a3rev shop and  category page, if not you should try it.
Features:
Works on any theme.

Pop-up opens full page content (excluding site header, footer and sidebar)

Fully mobile responsive – if your theme is responsive it opens in its true responsive dimensions within the pop-up.

Two positional settings – Show on mouse over the image or show always as button or text link under the image.

Position setting for show on mouse over image – Choose show to at Top, Center or bottom with padding settings.

Point and click Button style editor with transparency setting.

Choose to always show Quick View as a Button or Hyper-linked text under the product image.

Point and Click Button and Hyperlink text style editors – no coding required!

Padding settings above and below Button / Link text.

Choose from 2 pop-up tools – Fancybox or Colorbox

Set size of the pop-up as a proportion of the screen. Use slider to set from 50% to 100% in 1% increments.

Use the Transition Effects settings to create a unique opening and closing effect that matches your style.

Set pop-up background overlay colour

Fix pop-up or allow it to scroll with the screen content.