What this plugin does.
With this plugin you can –
Configure Catalog Visibility store wide and/ or on a product by product basis for all site visitors.

Customized Catalog visibility for logged in users based on WordPress and WooCommerce user roles.

Fully integrate an on- product page email inquiry function with a beautiful pop-up contact form.
Looking for more – Checkout the WooCommerce  Quotes and Orders plugin that has all of the features of this plugin plus 'Add to Quote' and 'Add to Order Mode'.
Catalog Visibility
WooCommerce Email Inquiry and Cart Options adds flexibility and fine grained control in configuring how users see your WooCommerce store products. It does this by integrating 3 new Product 'Rules' that can be applied to all not logged in visitors and can be configured individually for logged in users. The 3 Product Page Rules are
Hide the "Add to Cart' button which removes the e-commerce functionality.

Hide the product Price.

Show an Email Inquiry button or hyperlinked text on product pages.
Below is a series of images of one product that has variations (in case you where wondering if it works with products that have variations) that shows you some of the possible Catalog Visibility scenarios that can be set.  All of these are set Globally from the plugins admin page and can then be customized from each products edit page.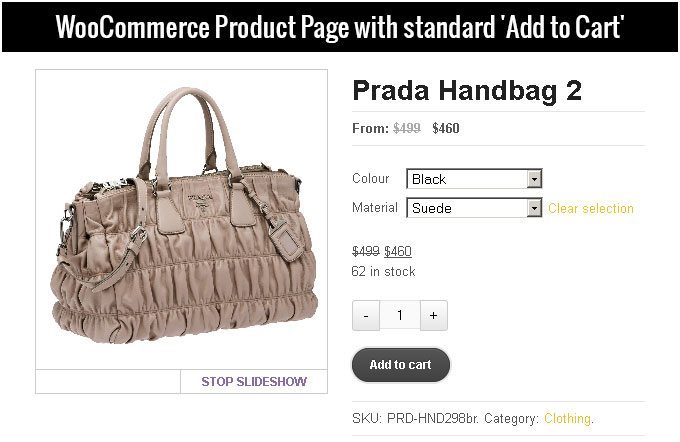 Add an Email Inquiry button for things like 'Pre-Sales' questions or 'More Information' requests. Style the button to display anyway you want and position it above or below where the 'Add to Cart' button's position in your theme.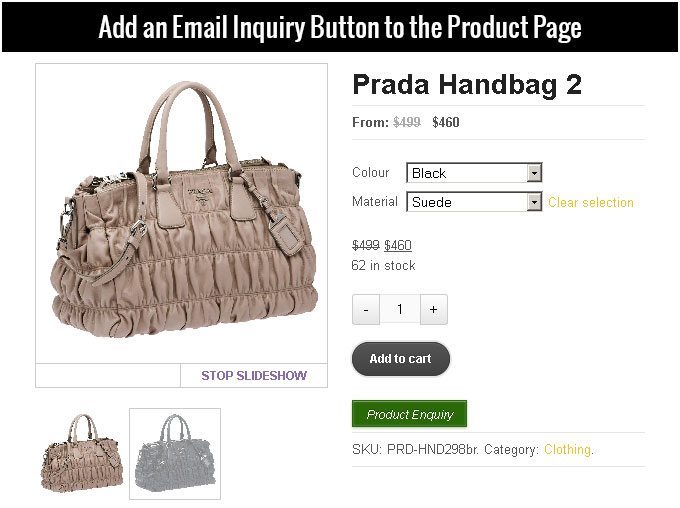 Turn your whole store into a brochure site by selecting the "Hide Add to Cart' rule. On each product page you can over-ride this setting if you want to have some products that users can purchase.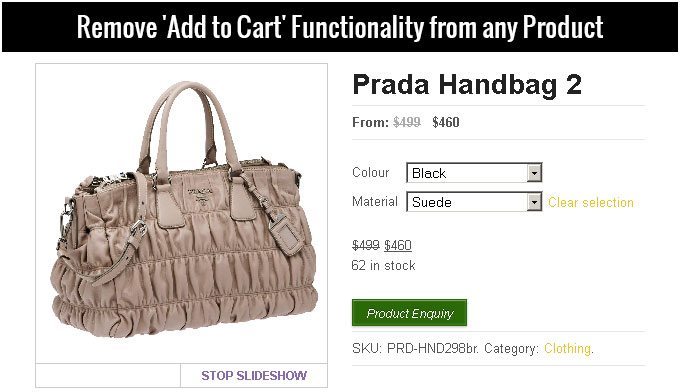 Don't want front end users to see your prices? Then just hide the price – apply this to your whole store or just individual products. If required show the 'add to cart' function to logged in users on a user role by user role basis.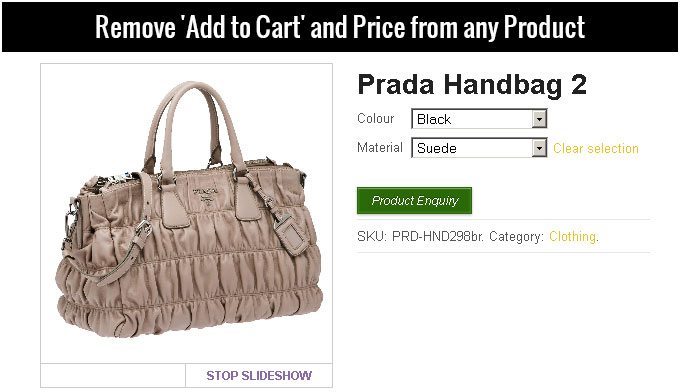 Or even – Hide Everything except the product, product images and description.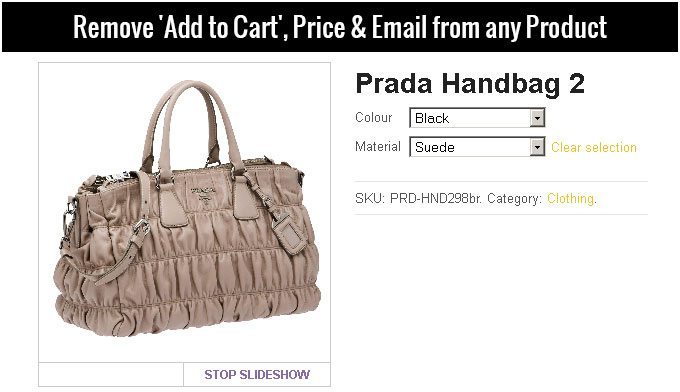 When a button just won't do the job! For some products a button is just not appropriate. No problem just add your text with the embedded email pop-up hyperlink positioned in the text where you want it.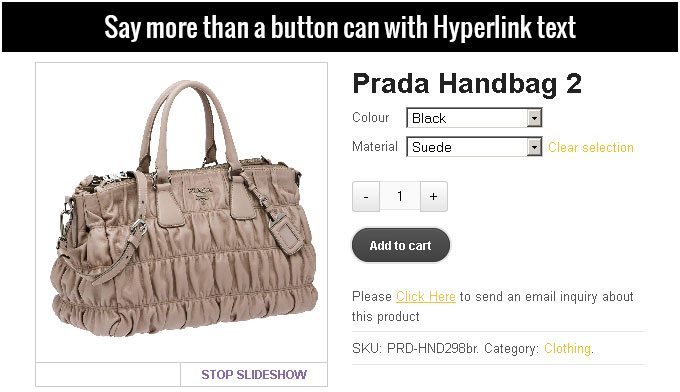 Easily configure custom Product page messages with the embedded email pop-up contact form for individual products. An example would be a product range where you require the customer to request a quote or inquire about shipping arrangements to their location.

WooCommerce Email Inquiry and Cart Options pop-up email contact form is beautiful. No more ugly on page email forms cluttering up your Product Pages or creating more tabs.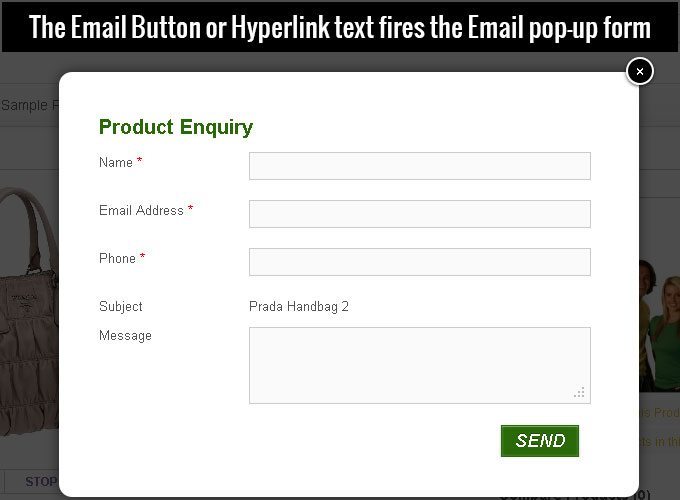 When a user submits an email request wow them with your beautifully styled success message that appears after they have submitted the inquiry. Add images – prompts to visit other parts of your site via text links and anything you can create with the WordPress text editor.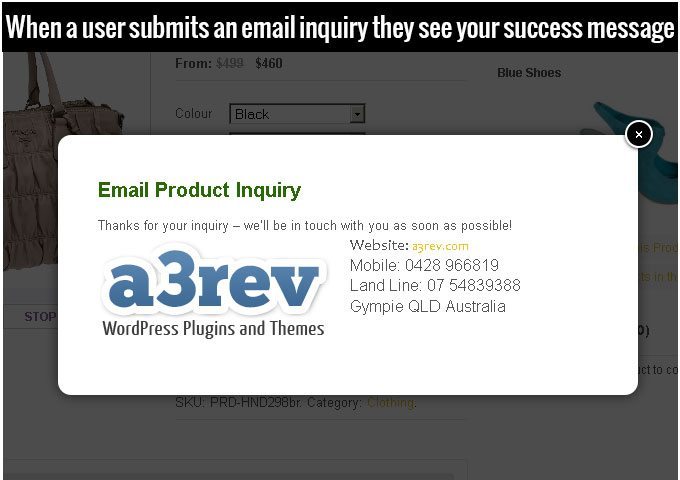 The email inquiry you receive is styled in an easy to read format with all of the customers contact details and the name of the product that they made the inquiry from and a link to that product.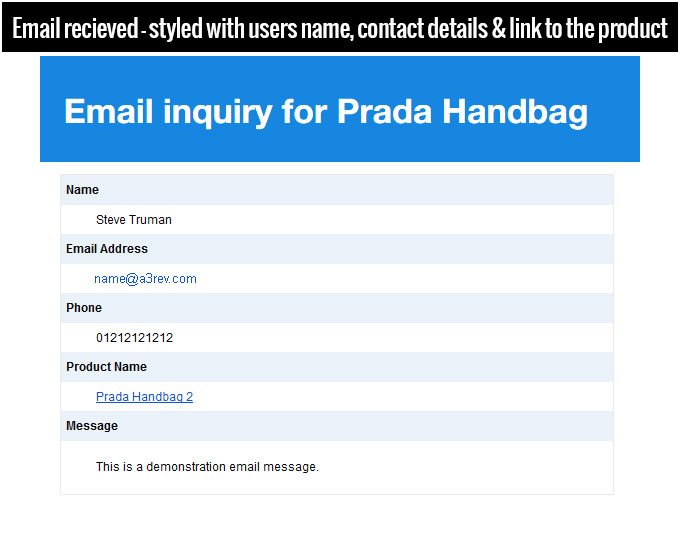 Set a Global the email address that you want all email inquiries to be sent to with a copy sent to any email address you enter. You also change that on a product by product basis. An example of this would be if had a salesperson or technical person who handles all inquires for a particular range of products or services that you offer.

Seen enough? Buy This Plugin
Configure Rules by Role for logged in users.
Rules set by you apply to all front end users. Customize how those rules then apply to a user once they log into your site based on the WordPress and WooCommerce user role that user is assigned to.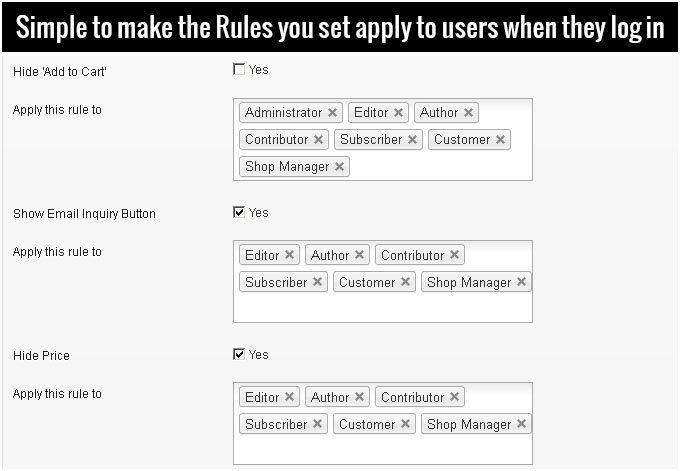 Create a beautiful Email Inquiry button – using the visual editor.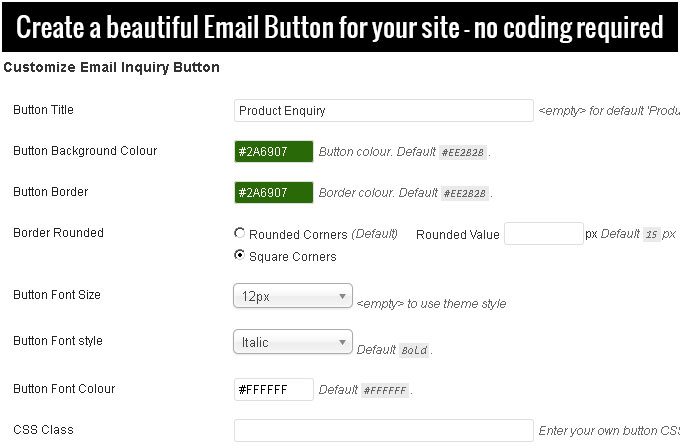 Style the email pop-up form.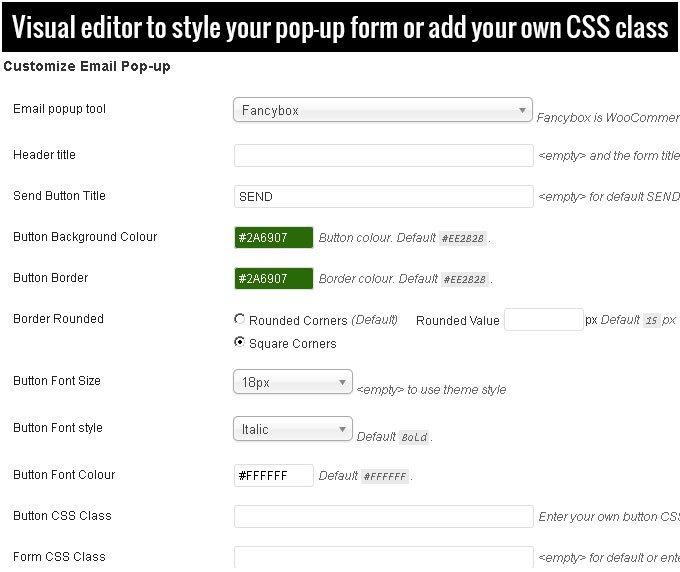 Styling your success message.