Install WP e-Commerce Grid View to showcase your products using a grid view layout. Grid view gives your front end user a greatly enhanced browsing and shopping experience on your site.
The plugin automatically gives grid view functionality on WP e-Commerce when installed and activated.
Product feature Image Scaling
Grid View Image Scaling will enhanced your shoppers visual experience.
Download WP e-Commerce Grid view for free from WordPress. However if your are trying to create a unique shopping experience for your customers by using grid product layout then you will want to go that little bit further with grid view image scaling. See the dramatic difference in visual experience image scaling makes.
Here is a grid view of 4 products without scaling.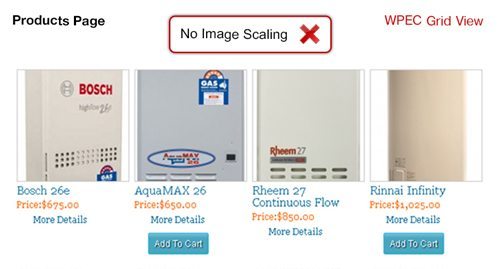 The same 4 images with Grid View image scaling.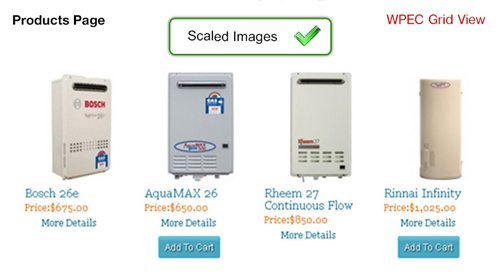 Image scaling creates a far superior visual experience for the front end user – the customer. That is why we believe that it is a must have feature that is well worth the small investment.
** Category Thumbnail Scaling now supported
Single Product Pages.
WP e-Commerce Grid View only scales the Grid View images – not your single product page images. For that feature we suggest that you also look at the WP e-Commerce Dynamic Gallery plugin. Together the two plugins will go a long way towards creating a unique visual shopping experience that your customers are looking for.
Instillation Tip:
If you have the Lite version installed deactivate it before you install the Pro version, otherwise you may get an 'failed' to install notice when you try to install this Pro version. Always a good idea to delete the Lite version after you have activated Pro. It is 'best practice' to always delete deactivated plugins if you are not intending to reactivate them soon.
Compatibility
This plugin is tested 100% compatible with WordPress 2.9 to 3.5.1 and WP e-Commerce v3.8.9.5 and backwards.