Product Description
A beautifully lightweight plugin that packs a powerful product marketing punch!
WooCommerce Widget Product Slideshow enables you to quickly and easily create any number of Customized Widget Product slideshows.
The plugin has no settings. Just install and activate and add the WooCommerce Product Slideshow widget to as many widgetized areas and sidebars on your site as you like.
Features
Create Product Picture Slideshows in any Widgetized area, sidebar or footer.
Create a slideshow of products from any Product Category
Create a slideshow of products from any product Tag.
Create an 'On Sale' Product Slideshow. Auto shows any product that has a reduced price.
Plugin has no settings. Each widget has its own setting panel.
5 Different transition effects.
Set transition effect speed and time between transitions.
View the Plugin DEMO which shows 3 Widgets created from the 3 Different Sources.
Show products from any Product category.
Products from any Product category.
Show Products from any Product Tag.
This feature gives the WooCommerce Widget Slideshow incredible flexibility. Make any Product Tag – example 'Featured' – assign products to that tag and they will show in the Widget if you select that tag as the source.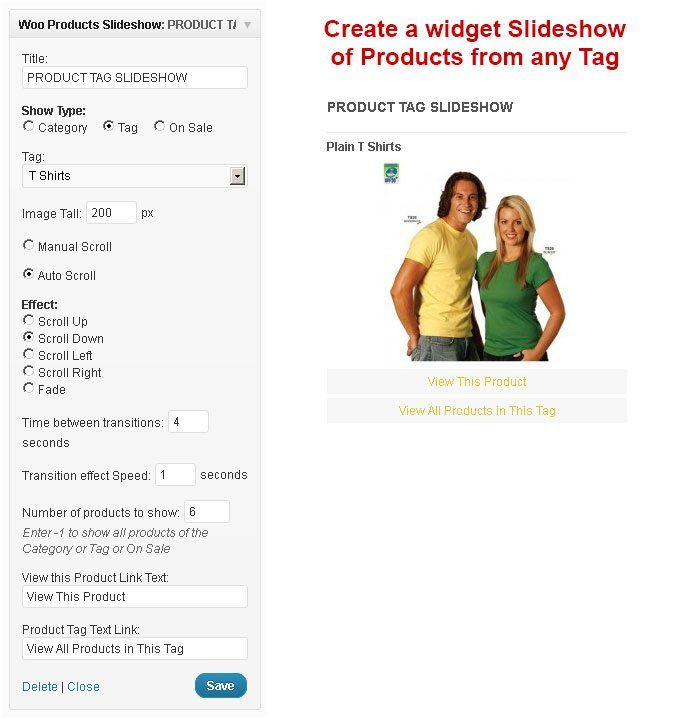 Create a Slideshow of all 'On Sale' Products.
Just set this feature and all of the Products that you have set a "Specials' or 'marked down' price will auto show in the Gallery, including the reduced price.
Each widgets admin panel allows you to customize not only which products show in the gallery slideshow but how they are displayed. For a full explanation of how the settings work see the plugins documentation.